Building Your Perfect Baby Registry: 5 Newborn Essentials For Summer
Preparing to welcome a new baby into the family is an exciting time. Pregnancy is the best time to think about the newborn essentials that you really need to care for your baby. Creating a baby registry is a great way to plan, organise and buy baby must-haves - particularly depending on which season the baby is born in. In this blog post, we will explore newborn essentials that should be on every parent's baby registry.
Baby essentials for a newborn
Your baby needs lots of staple items almost as soon as they are born. If you are wondering what to pack in your hospital bag for labour, you'll need a lot of newborn essentials.
Here are some essentials for your new arrival at the hospital and the journey home.
Snowsuit or cardigan depending on the season
Sleepsuits and vests in both newborn and 0-3 months sizes
A cellular baby blanket to wrap them up
Muslin cloths which act as dribble cloths
A going-home outfit
Every day changing products, including newborn nappies, cotton wool, nappy bags, baby wipes, nappy creams etc.
Group 0+ rear-facing car seat for the journey home.
Dummies suitable for newborns
A few bottles of readymade formula with newborn teats, just in case
A travel system or pram
Parents-to-be will typically ask what's the difference between a pram, stroller, buggy or travel system. Whichever you choose, some kind of pushchair is a baby essential. It must be suitable for use from birth, easy to use, have good ventilation, and offer protection from the weather. Many travel systems are compatible with attachments, such as a canopy or sunshade, but can also be used when you choose a baby car seat to allow a seamless transition between car, pushchair and indoors. As the cost of a pushchair can vary from a few hundred pounds to thousands, you could use a baby registry to ask family and friends to donate towards the price.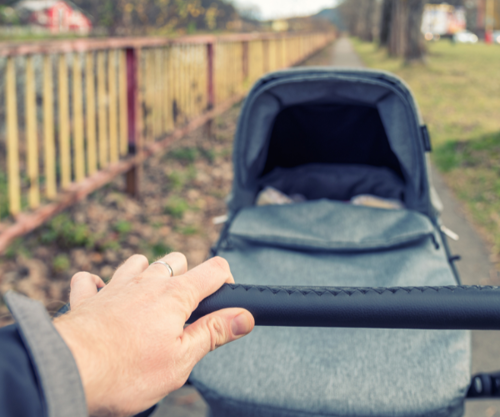 Baby sleeping essentials
Safe-sleeping guidance recommends a baby sleeps in the same room as its parents for at least the first six months. Many parents choose co-sleeping arrangements, however, will also buy a Moses basket, crib or cot too. Cribs are smaller and, depending on the model, can attach to the bed to aid night feeds. Moses baskets are much smaller and can be conveniently moved around the house. A cot tends to be a bigger item which can be placed in a child's nursery longer term. Travel cots create a safe sleeping space for your baby wherever you go and can be useful during holidays or visits to family and friends. Whichever type of bed you choose, ensure it meets safety standards for comfort, ventilation and temperature control. For peace of mind, choose a baby monitor to keep an eye on a newborn baby whilst they are sleeping.
A lightweight and breathable baby carrier
Babies love being close to their parents, and if you already have a child, a baby carrier is a great item to add to a baby gift registry. Choose a lightweight, breathable carrier that won't cause you or your baby to overheat in the summer months but will still offer protection during colder seasons. Baby carriers made of breathable fabrics like cotton or mesh tend to be softer, allowing air circulation and preventing excessive sweating. For your own comfort, choose a baby carrier with adjustable straps and correct support for your baby's head and neck.
A selection of summer baby clothing
Babies go through a lot of clothes with spills and accidents, so it's a good idea to add lots of newborn sleepsuits, vests and lightweight layers to your baby gift registry. In summer, a newborn baby will still feel the cold which is why layers are the safest way to dress a baby. Keep cardigans and thin blankets or muslins on hand to keep a newborn comfortable, but remember not to add too many, or it can cause a baby to overheat.
When building your baby registry for a summer newborn, consider the seasonal changes.   Lightweight and breathable items such as strollers, cribs, carriers, and sun protection are essential for keeping your baby comfortable and safe in the summer heat. Don't forget to add cooling essentials to your registry to help your little one beat the heat. Including these newborn essentials will prepare you for an enjoyable first summer with your baby.
It's very easy to create a free baby gift registry with Little Wishlist. Start yours today and share it with loved ones so that friends and family can choose the perfect gift for the new arrival.