Little Wishlist's Guide: Best Baby Travel Systems of 2023
A commonly asked question by new or expectant parents is, 'what's the difference between a pram, stroller, buggy or travel system?'.
The truth is, there's a lot of crossover between all categories of pushchairs. 
To clear it up, here's our quick guide to prams and baby buggies. 
What is a pram?
A pram is the traditional four-wheeled carriage for a baby. 
You will need a pram for the first few months of a baby's life. Newborns and younger babies need extra protection and comfort when they cannot sit up unaided. Prams also double as a place for naps. Modern prams may come apart but generally won't fold flat.
What is a pushchair?
A pushchair is usually for the next stage and is a seat with a hood.
Often, a pushchair can be used in both forward and backward directions, depending on the baby's age. The child is strapped in with a harness, and the pushchair will recline almost flat for younger children to nap in. 
What is a stroller or buggy?
A stroller is usually a lightweight pushchair option.
Strollers (or baby buggies) are generally forward-facing and lightweight. They take up much less space, and parents tend to prefer them as a smaller pushchair from about 12 months onwards.
What is a travel system?
A travel system is a modular pushchair that crosses between a pram and a pushchair. 
A travel system is the most versatile pushchair. It is a car seat, carrycot, pram and pushchair seat in one. Parents can also add foot muffs, waterproof covers and nappy bags. 
Parents can use a carrycot early on. Once the baby outgrows the pram-style attachment, you can swap it for a pushchair seat. 
Do I need a travel system?
Whether you choose a travel system or not is a personal decision.
The beauty of a travel system is that, in theory, you can use it from birth right through to toddlerhood. The interchangeable pieces offer the flexibility to use different seats at different times. 
In the first weeks of life, babies need to feel secure, comfortable, and safe. A travel system with a bassinet pram attachment can help them acclimate to the new world. The carrycot section is a lie-flat, bed-style carrier with solid high sides, a hood, and a handle. A pram bed or carrycot offers enough room to wriggle and protects from extreme noise, light or temperature. 
As the child grows, they can move into a pushchair seat, which can be parent- or forward-facing. A travel system, therefore, facilitates communication between a baby and parent to suit the child's development stage. 
Versatile travel systems
A travel system can grow with the child with the right combination of attachments.  
The car seat, carrycot, pushchair seat and chassis are all separate items. Parents with little house or boot space can swap unwanted pieces when needed.
A travel system is also usually a larger and heavier option but does provide greater comfort, a larger luggage basket, and can accommodate other siblings. 
Travel systems can attach practical additions with seats, reins or harnesses, buggy boards and even coffee holders.
How much does a travel system cost?
The price of a travel system depends entirely on the brand and the number of attachments. 
Cheaper travel systems are priced from £300, but you need to check what that includes. It may be that a bundle with all of the extras works out to be better value than one with a lower basic price. 
More expensive travel systems can be priced well over £1000 with everything added. Check out what is included, and calculate the price of additional elements that you may want to add later. 
If you're conscious of the planet, you could consider buying a pre-loved or second-hand travel system. Look on Facebook Marketplace or eBay for bargains. However, always get a professional clean and service to ensure the pushchair is safe.
Buyer's guide to choosing a travel system 
Things to consider when choosing a travel system.
Does the travel system include a car seat, and is it one you feel comfortable with? Check for ISOFIX and whether you need an additional base or connectors. Is the car seat compatible with the travel system, or do you need adapters? Are these expensive? Where do you buy the car seat connectors from? Are they in stock?
Does the travel system include a carrycot attachment? Can the carrycot be used for safe sleeping? Could the carrycot be used as an alternative to a travel cot for occasional overnight sleeping?
How heavy is the travel system? What is the total weight in use and dismantled? Will the travel system fit in your house or flat, around corridors, and in the car boot?
What other accessories are available? Does the bundle include waterproof covers, sunshades, fly nets etc? Can you attach sibling straps, seats and buggy boards? What other features can you add?
How does the travel system fold? Does the seat have to be removed first? Is it asingle-handd fold? Is it a self-folding travel system? How light and small is it when folded?
What are the fabrics made from? Can the travel system be taken apart for cleaning, and are the fabrics machine washable?
Here's a list of features to consider when choosing a travel system:
Shopping basket
Seat recline position
Number of wheels
Handles
Car seat attachment
Carrycot available
Seated position
Fold mechanism 
Accessories
Ability to attach additional seats
Weight
The best travel systems to buy in 2023
Best premium high-end travel systems
Premium travel systems offer prestige and style with designer prints, finishes, and gadgets. For a high-end pushchair, your budget will need to start from around £1000 for the chassis and seat unit. You could spend up to £2000 or more with all the added extras.
Take a look at Stokke travel systems for innovative designs.
Best value for money budget-friendly travel system
With some shopping around, you can pick up travel system bundles that offer great value for money. 
The Ikkle Bubba Stomp V3 travel system includes a carrycot, group 0+ car seat & ISOFIX base for a great price.
Best travel systems for siblings
Larger travel systems are compatible with extra seats and attachments for siblings to extend the life of the pushchair. 
Both Bugaboo Donkey and iCandy Peach can be used as double pushchairs. 

Most compact travel system
A lightweight travel system is a good option for families with limited storage or boot space. Compact travel systems are also perfect for urban living, jumping on and off public transport. 
The Graco Breaze Lite i-Size lightweight travel system offers some handy features for a great price.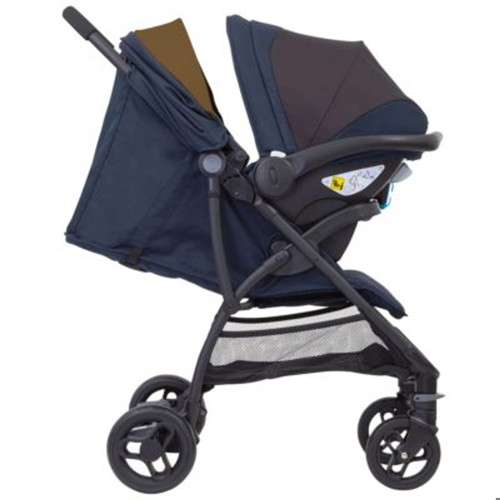 Best travel system for offroading
If walks in the park or running with a buggy are a big part of your lifestyle, look at an offroad travel system. 
The Out 'n' About Nipper Sport V4 is great for easy offroading.
Best celebrity travel system
If you like to take your lead from the stars, take a look at travel systems influenced by celebrity collaborations. 
My Babiie travel systems collab with celebrities such as Dani Dyer, Katie Piper and Christina Milian.